Pass AWS Certified Solutions Architect – Associate Approach and Plan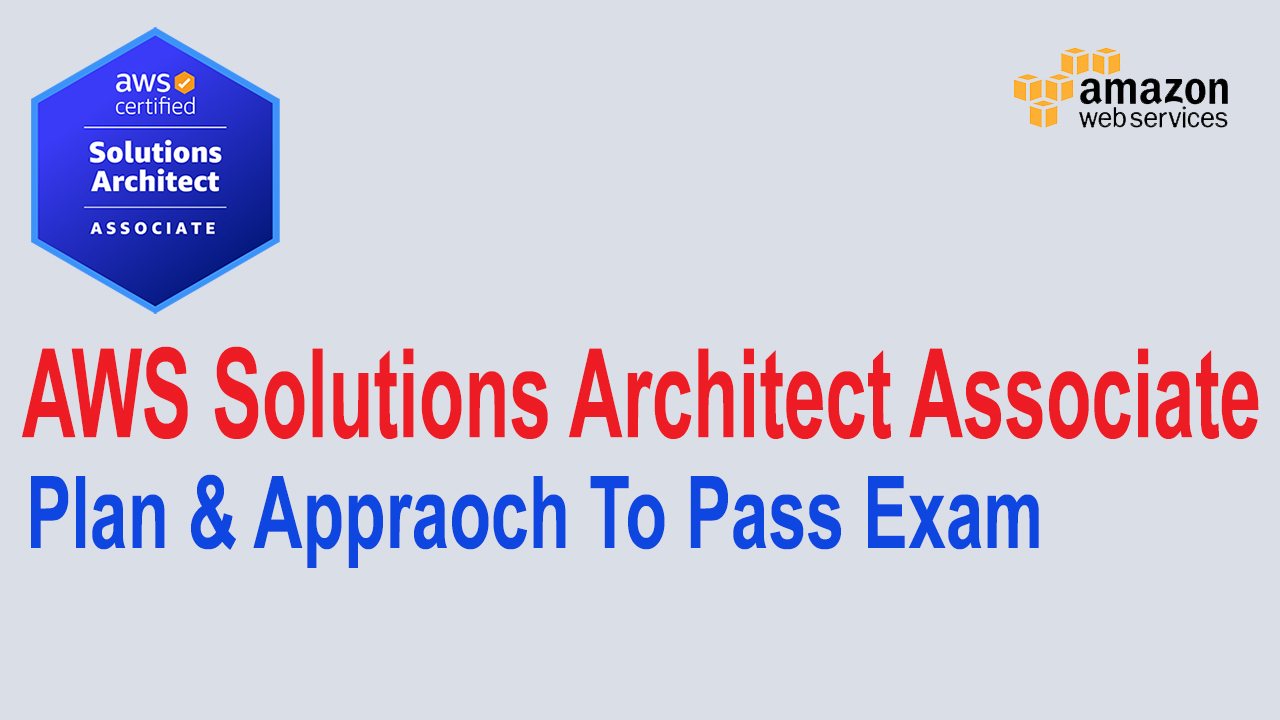 "Live as if you were to die tomorrow. Learn as if you were to live forever." – Mahatma Gandhi
Do you wish to pass AWS Certified Solutions Architect - Associate exam in your first attempt? Do you need a solid approach that will help you in passing the exam with flying numbers? If yes, then do read this article that provides with a well planned approach and steps for passing your exam on your first attempt.
Who Should Go for AWS SolutionArchitect Associates Exam ?
This exam is for someone who has one or more years of experience in managing AWS services, setting up fault-tolerant, security and scalable systems on AWS environment.
Exam Overview
| | |
| --- | --- |
| Level | Associate |
| Length | 130 minutes to complete the exam |
| Cost | 150 USD |
| Format | 65 questions, either multiple choice or multiple response |
| Delivery Method | Pearson VUE and PSI; testing center or online proctored exam |
Steps to Follow to Pass AWS Solutions Architect Associate Exam
To pass any certfication or exam one need to plan the journey to attain success at first GO. Obiviously, there should be that keen interest and love for learning and upskilling your technical knowledge and to stand out among the crowd. So apart from preparation, you need to have that hunger for learning something new and not just take up the course for passing to add another certificate in your hat.
With that note, lets move to the first step
Create and Enroll on Digital Learning Platform Offered by AWS
AWS provides free as well as subscription based digital learning platform to enables users to learn about AWS services and it's core benefits. The platform provides whitepapers, video tutorials, virtual classroom, subscriptions based learnings. Right now we dont' have to go for any paid subscriptions rather we will opt for reading and enroll for free digital trainings on portal. Go to the link https://www.aws.training/certification and create your account.
Once you create your account and login to the portal, you will be redirected to their learning dashboard. In order to access free course and content, click on AWS Skill Builder provided in top menu options.
From the given courses provided for free, enroll for the following to increase your understanding and to gauge a solid foundation on the principle architecture of AWS cloud platforms. Go through the course enrolled atleast twice for clear and better understanding
AWS Well-Architected ( 1.30 hrs of free course )
AWS Shared Responsibility Model ( 05m of free course)
Introduction to AWS Identity and Access Management (IAM) - 07m free course
AWS Cloud Practitioner Essentials (6Hrs Free course - NOTE Enroll in this course only if you not earned /passed Cloud Practitioner Exam and directly attempting for AWS Solutions Architect - Associates Exam - Recommended to go through the course twice and take notes)
Setup AWS Free Tier Account
Practice makes perfect. So in order to understand things much better, you need to explore and do some hands-on. AWS provides free credit on opening AWS Amazon account to gain hands-on experience for the services offered and get to know their platform well. There are 3 types of free tier offered by AWS Amazon depending on the products used
Free Trails
12 Months Free
Always Free
Free tier account is required to explore the AWS services and gain experience and confidence in the subject you are learning. Do watch our video for In-depth Step-By-Step guide for creating AWS Free Tier account.
Enroll on Course from Udemy
Udemy provides courses on AWS Solutions Architect Associates at a very cheap price of around 2 to 3 dollars ( they put of sale every 10 days). The course offered provides detailed coverages of all AWS services, Practical Hands-on sessions, Practice exams and tips to pass your exam as well.
Out of all the courses provides by Udemy, I personally like and had enrolled course provided by Neal Davis and Stephane Maarek. However, you can select course basis the ratings, user comments shared to all before enrolling for the course. Note- The course are recorded however very effective and detailed.
Learning Plan
Typically the course enrolled in Udemy will have around 12 to 15 main topics that will cover the course content for AWS Solutions Architect Associate along with free full length practise exam questions. High level topics that is included in any course in Udemy includes the following
AWS Identity and Access Mnagement (IAM)
Amazon Elastic Compute Cloud (EC2)
Elastic Load Balancing and Auto Scaling
AWS Organization
Amazon Virtual Private Cloud (VPC)
Amazon Simple Storage Service (S3)
Docker Containers and ECS
Serverless Applications
Database and Analytics
Monitoring, Logging and Auditing
Security in Cloud
Migration and Transfer of Data
The course duration is around 20 hours and it's not possible for anyone to continously go through the session and grasp the concepts as well as perform hands-on session in parallel
The approach you should follow is :-
Step 1 - Set aside 1 to 2 hours daily for going through the session in the given order
Step 2 - Set aside 2 to 4 hourse for going through the tutorials on weekends ( I had set aside my 5 hours of my schedule on Saturday's to go through the tutorials)
Step 3 - In your first attempt, go through all tutorials as per the plan and time scheduled without taking any notes or tying out any hands-on session
Step 4 - Once you have gone through all the tutorials, repeat the same however this time you will understand each session thoroughly and also jot down important notes or prepare flashcards
Step 5 - Now it's time to check how well you have concentrated and understood the concept. So go ahead and appear for the free practice exam provided in the course. The Free practise exam will require 75% passing score.
Step 6 - Attempt the Free Practise exam paper multiple times till you get 90% scoring. This will ensure you have understood the concept very well and getting ready for the exam
Please make sure you review the notes taken in Step 4 on daily basic (morning & evening) till you pass your exam.
You may enroll for Practise exams available on Udemy that provides around six practise exam sets that mocks the real world exam questions. If you go for such course, then make sure you score 90% above in all practice exams. ( Re-attempt multiple times till you get the desired score).
AWS provided Exam Guide and Sample Practice Questions
AWS also provides us with free Exam guide and Sample Questions that can be accessed from the link https://aws.amazon.com/certification/. On this page, scroll down and select the exam AWS Solutions Architect - Associates.
You will get access to the following section. Recommed to access the free resource and got through it for multiple times. These are all the parameters that will help you build solid foundations for passing your exam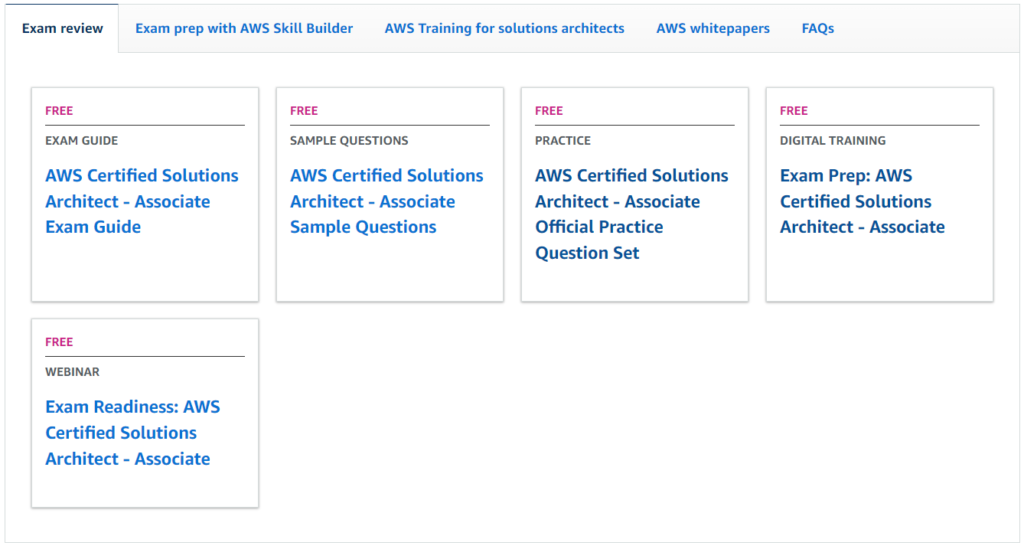 Schedule your Exam
Once you are done with your preparation and confident enough to appear for the exam, then it's time to enroll and schedule your exam.
AWS conducts the exams through PSI, a worldwide industry-leading professional testing services provider. Log on to https://www.aws.training/certification and on your dashboard, you will get the option to Schedule new Exam (Refer below screenshot)
Search for Exam Center located nearby and from the calendar provided, select the date and time slot as per your preference. Once the date/time is confirmed, it will redirect to the payment page where you need to pay the exam fees and book your schedule for the exam.
If you prepared with the following above mentioned steps, then you will definitely pass the exam. Wish you luck!
Hope you liked the article and please do subscribe to receive such articles posted on Digital TechJoint and click here to subscribe to our YouTube channel.
Thanks for Visiting Digital TechJoint !!!