What is low-code and no-code platform ?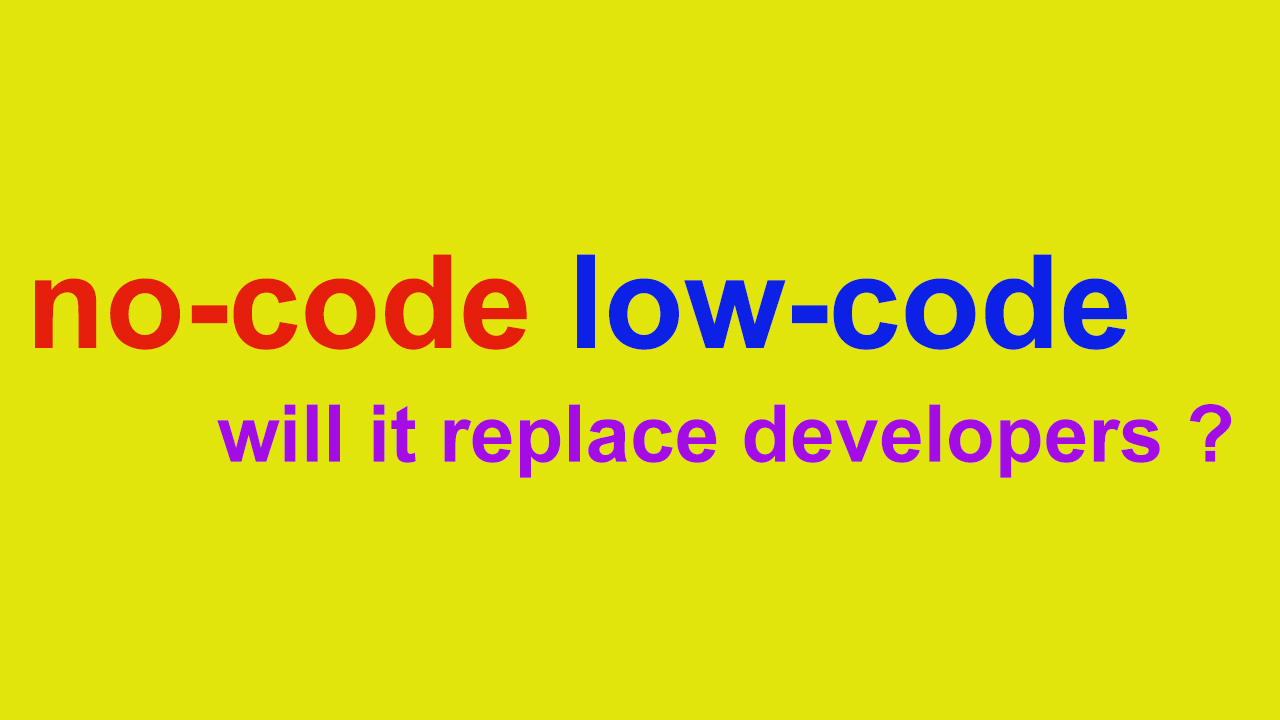 So when it comes to providing digital or Automation solution for business needs, then the most common approach companies and enterprise adopt is developing it In-House or Procure the same by external vendors
Both approach works depending upon the software development requirement and pocket size, however both approach comes with their own advantage as well as dis-advantages. Now we hear another alternative to deliver or create solution for our business needs knows as low-code and no-code (LC/NC). Let's deep dive knowing more about it.
The LC/NC provides the capability to provide technology solution without spending much development efforts (less to no code) or without writing even a single line of code.
In traditional software development approach, we need to put in enormous about of time, money and follow other SDLC process to produce the desired solution. LC/NC addresses that by providing platform and automated solution that demands very minimum code or in some instance (depending upon the need) no code at all.
Low Code Platform
Low code platforms provide developers with application development platform to create/develop apps or web solutions with minimum lines of code. Typically, the Integrated Development Environment (IDE) is enabled with graphical components/elements to drag-n-drop to create program.
In some instance developer might have to write few lines of code, may to customize the flow developed or to integrate the same with external solution or core systems.
Low code platforms do provide opportunities for even Non-IT professional to learn and develop solutions without learning advanced or difficult programming languages thus provide job opportunities for non-IT candidates as well.
No Code Platform
No code development platforms allow you to create/develop solutions without writing even a single line of code. The platforms provide with graphical interface for developers or non-IT professional to drag-n-drop the components along with some configuration setting to create full-fledged working software or automating some processes.
Some examples,
Triggering email to customer on some specific event or condition
Automating manual and monotonous process like reviewing data received in excel or other format, validating and uploading in core systems
For the above mentioned scenarios, No Code platform can provide the capabilities to design/create the task by using the visual tool by creating workflow (drag-n-drop) readily available components or creating it on fly without writing any code.
Imagine if the mentioned activities (Sending email and automating manual process) had to be done using traditional programming approach then it could take enormous time and money to accomplish the task that was easily designed and configured using No Code Platforms.
Benefits & Advantage of No-Code & Low-Code
Productivity Boast – Increase in the numbers of solutions released on time or enhancing the business processes since time and money is saved using no-code-low-code platforms
Cost – You save cost procuring environment tools, license, skilled and niche resource targeting specific skillset /tools.
Reduced Complexity – Develop Apps or Web solutions with no complexity
Automation - Quickly and easily automate your manual processes. RPA (Robotic Process Automation) is good example that has been implemented widely in companies to automate manual and data entry process
Job Opportunities – Provides job opportunities even for NON-IT profession since it requires less or no code to build solutions using no-code-low-code platforms
Some Drawbacks
Shadow IT – In enterprise application, this could lead to departments creating their own customized solutions without the central IT department knowing it. Leading to security and compliance concerns.
(Shadow IT refers to information technology systems deployed by departments other than the central IT department, to work around the perceived or actual shortcomings of the central information systems.)
Vendor Platforms – All the well know no-code-low-code platforms are provided by vendors leading to various terms and conditions that customers are eventually bond to accept it.
So will it replace developer's job
Absolutely NOT. Developers are still required to build the components and provide the platforms on which NON-IT or Technical users will create solutions secondly for enterprise and large scale applications, integration with core system, data transformation and complex logics are required and so niche and skilled developers will be required to undertake such task.
For that matter any new wave of disruption has enormously provided room skill development and job opportunities like RPA, Artificial Intelligence (AI), Machine Learning (ML) etc
Platforms – Some of the known No-Code-Low-Code Platforms
Microsoft Power Apps
Power Apps, provides you to quickly build custom business apps that connect to your data stored either in the underlying data platform or in various online and on-premises data sources. Provides with various plug-in to connect with external system/DBs for data transformations.
(source - https://docs.microsoft.com/en-us/power-apps/powerapps-overview)
Zoho Creator
Zoho Corporation that creates web-based business tools. It provides very competent low-code platform for developing customized apps and web based solutions. It provides with various in-build solutions for most commonly required system needs like retail, financial, inventories, pharma etc.
OutSystems
OutSystems is a low-code platform which provides tools for companies to develop, deploy and manage omnichannel enterprise applications.
Mendix
Mendix is the only platform that empowers both business and professional developers to make apps that get to value sooner
Quickbase
Quickbase, Inc., provides a low-code application development platform called Quickbase. Drag and Drop to build apps and code minimally to customize better. Provides full capability for customization with minimal coding
Bubble
It yet another platform that provides with the capability to develop tech products easily and quickly without much overheads. With the staged approach of designing and releasing the products that includes Prototype -> Launch -> Iterate and Scale.
Hope you liked the article and please do subscribe to receive such articles posted on Digital TechJoint and click here to subscribe to our YouTube channel
Thanks for Visiting Digital TechJoint