Secret Passing Professional Scrum Master (PSM) Exam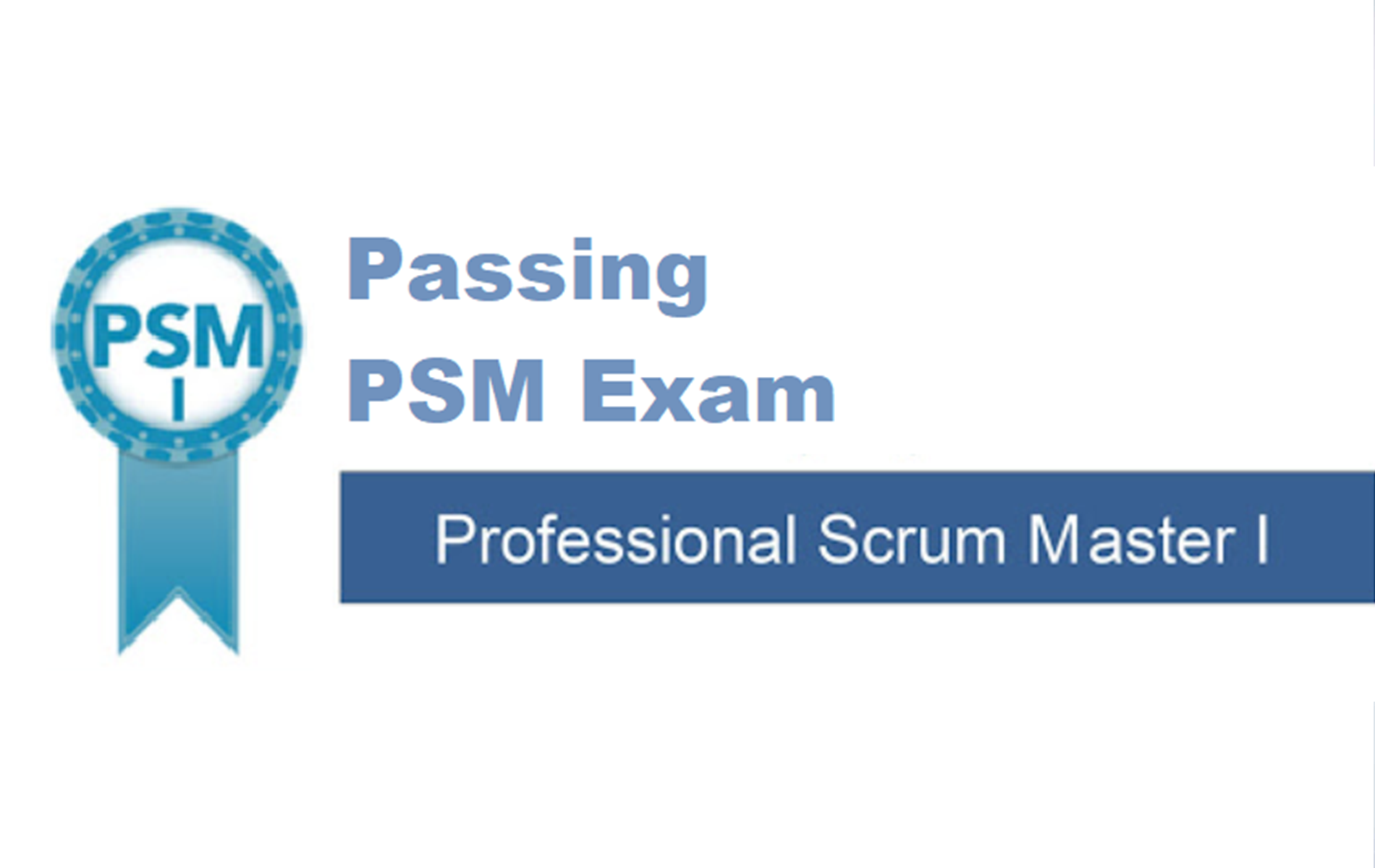 In this article, I am going to share with you my lesson learned and approach for passing PSM -1 (Professional Scrum Master) in just 2 weeks.
I was absolutely new to the subject and decided to go for it after watching scrum video available on scrum.org. I really found the framework and principles very interesting in addressing and solving the complex problem in software development.
PSM certification is offered by the Scrum.org scrum organization founded by Ken Schwaber along with Jeff Sutherland. Together they created the Scrum guide that explains the Scrum clearly along with Scrum Roles, Events, Artifacts, and Rules that bind all them all together.
Certifications offered by Scrum.org includes
Professional Scrum Master (PSM)
Professional Scrum Product Owner (PSPO)
Professional Scrum Developer (PSD)
Scaled Professional Scrum (SPS)
Professional Scrum with Kanban (PSK)
Professional Agile Leadership (PAL)
Professional Scrum with User Experience (PSU)
What is Professional Scrum Master?
PSM demonstrates knowledge and understanding of Scrum and the ability to apply it in real-world situations.
Scrum.org offers three levels of PSM certifications that compromise of PSM I, PSM II, and PSM III.
PSM I – Offers Fundamental Level of Scrum Knowledge. The PSM 1 certification holders prove that they understand Scrum as described in Scrum Guide and how to apply in Scrum Team
PSM II – Certification demonstrates the advanced level of Scrum mastery and the underline principles of Scrum and can effectively apply Scrum in complex, real-world situations
PSM III – Certification demonstrates the distinguished level of Scrum Mastery and having a deep understanding of the application and practices of Scrum and Scrum Values in a variety of complex team and organization situations
So basis the level of mastery and the number of years of experience you hold, one needs to decide on the PSM certification you would like to go for.
I opted for PSM I certification since this was my first certification on Scrum.org and I wanted to get my Scrum framework and fundamentals clearly understood before earning the advanced certifications.
Assessment Details and Passing marks
PSM Assessment is purchased on Scrum.org website and exam is given online. The exam is time-based with 60 minutes of duration having 80 Questions with the single best answer, multiple best answer along, and true/false questions. The passing score is 85% & above.
PSM certification does not expire once you earn it.
The approach followed to Pass PSM Exam
The first step towards passing your PSM I examination is to visit Scrum.org and download the Scrum guide freely available for all. The guide can be downloaded from the below URL. Read the Scrum guide twice a day. It is hardly around 19 pages of the document that can be read in about 30 minutes. Recommend to read as many times you can and keep notes on the process names and any specific terms/glossary
Prepare Flashcard of Glossary noted on the terms and keywords you come across while reading the Scrum guide. Make sure you read the flashcard prepared every day.
If you think you need more guidance, then enroll for 2 days training program from Scrum.org or any available private institute that provide this training. During the training, students are thought about Scrum Framework, principles, roles and events along with important situations that may appear during the real exam.
I had enrolled in the Udemy course for Prep on PSM 1 examination provided by Joseph Phillips. The course has lots of good reviews and was getting a good price so I decided to enroll and believe me it was a very good decision. You can search and review the course details in Udemy
Attempt the Udemy Course Practices questions multiple times until your score 100% correct marks. Some of the questions did appear in PSM I examination
Once you have understood the framework well and have enough confidence then proceed with the free assessment exam available on Scrum.org. The exams question provided are really good and provide the same testing environment that you will get during the actual exam. Suggest giving this mock exam on the same schedule time that you actually plan to give your actual exam. In this way, you are more prepared for the actual exam since you are training your mind and body during all mock /practice exams. Link to all scrum open assessments: https://www.scrum.org/open-
Apart from the above-mentioned practice test, you can also visit Mikhail Lapshin blog that hosts exam questions for PSM-1 aspirants. The exam questions are really good and very close to the actual exam questions. You should target to score above 90%. Once you start getting above 90% then you are in good shape to appear for the actual exam. Link:- http://mlapshin.com/index.php/scrum-quizzes/
The only assessments I took up during preparation were the scrum.org open assessments, Udemy practice questions and Mikhael Lapshin's quiz. Make sure in all the exams mentioned you score at least above 90%.
The final step is to buy the Assessment from Scrum.org. You will do this once you have gathered enough confidence in appearing and passing the Exam.
Scrum.org will email you the assessment passed within 1 business working day and you are eligible to appear within 14 days from the day you receive the password in your inbox.
Once you appear and pass the exam, you will receive the result immediately on your inbox with scoring given basis the knowledge area along with that you will also receive your certification and badge in separate email by Scrum.org.
Believe me, it is such a wonderful experience on earning this certification and I am sure you will really feel proud of yourself with you see that certification with your name on It.
You may also enroll with Edureka online course portal for complete training and guidance by clicking the link below
Hope you liked the article and please do subscribe to receive such articles posted on Digital TechJoint and click here to subscribe to our YouTube channel
Thanks for Visiting Digital TechJoint