How to Pass AWS Certified Cloud Practitioner in your First Attempt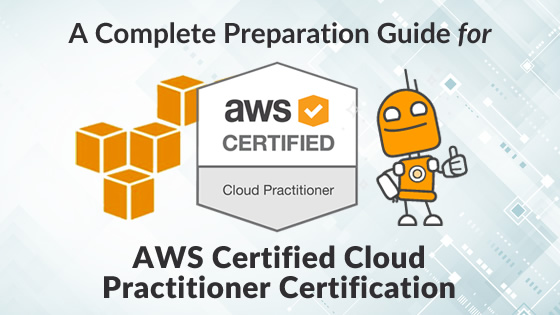 Let me start the article with a quote "Ignorance is never better than knowledge". It is always better to learn and upgrade once skill-set rather than moving away.
Cloud computing is no more than just storing your business data on a cloud but it brings about the change in how you operate your business, in addition, it offers flexibility, data recovery, build in services to carry out most complex processing with a flexible and usage-based cost.
My journey to embrace cloud began with Amazon Web Service (AWS) after exploring various cloud service platforms like MS Azure, Google Cloud Computing (GCC), IBM, Salesforce, etc. along with all the leading service providers AWS stands out to be the larger market capital with major availability regions and advanced services offered.
Amazon Web Service (AWS) currently offers 11 certifications that include a foundational certification, three associate-level certifications, two professional-level certifications, and few advanced levels of specialized certifications.
My purpose in writing the article is to provide insights and approaches for an aspirant to pass the AWS CCP course. This is the first step towards the cloud computing world so let's get started.
AWS Certified Cloud Practitioner Exam Information
| | |
| --- | --- |
| Certification Name | AWS Certified Cloud Practitioner |
| Exam Duration | 90 mins |
| Passing Score | 65% |
| Exam Pattern | Multiple Choice & Multiple Response Questions |
| Exam Fee | $100 |
| Exam Language | English |
| Renewal | Every 2 Yrs |
Step 1 – Enroll in AWS Training Portal
We start by enrolling in the AWS training portal that provides a free digital training platform to learn and understand the fundamental of Cloud Platform along with the introduction of core services and the main pillars of AWS architecture and guidelines.
Step 2 – Go through AWS CCP Video
The AWS training portal includes online videos based on various categories. We will include all the videos pertaining to AWS cloud certified practitioner.
The AWS CCP includes the following video that you need to add in your learning library
AWS Cloud Practitioner Essentials (Second Edition): Introduction to the AWS Cloud
AWS Cloud Practitioner Essentials (Second Edition): AWS Architecture
AWS Cloud Practitioner Essentials (Second Edition): AWS Core Services
AWS Cloud Practitioner Essentials (Second Edition): AWS Integrated Services
AWS Cloud Practitioner Essentials (Second Edition): AWS Security
AWS Cloud Practitioner Essentials (Second Edition): Pricing and Support
Training provided is very crisp and clear and it sets the tune and understanding of the overall goal of the certification. I recommend going through each video twice for better grasping of concepts.
Step 3 – Go through Whitepapers
AWS provides some really high-quality whitepapers covering the topics along with stats that are a must-read for aspirants. Provides the main pillars & principles of AWS along with a detailed overview of components and services one should know.
Recommend to go through following whitepapers available on AWS website
Overview of AWS
How AWS Pricing Works
Maximizing Value with AWS
AWS Security Best Practices
An Overview of the AWS Cloud Adoption Framework
The Business Value of AWS: Succeeding at Twenty-First Century Business Infrastructure
Visit the link to access all the Whitepapers and case studies
Step 4 – Online Digital AWS Course
Only after going through the Free Digital Videos and Whitepapers, you should enroll yourself for the online digital course available on Udemy that provides insights and hands-on for all topics required to pass your AWS CCP certifications.
Step 5 – Schedule your Exam
Once you are done with your preparation and confident enough to appear for the exam, then it's time to enroll and schedule your exam.
AWS conducts the exams through PSI, a worldwide industry-leading professional testing services provider. Log on to https://www.aws.training/certification and on your dashboard, you will get the option to Schedule new Exam (Refer below screenshot)
Search for Exam Center located nearby and from the calendar provided, select the date and time slot as per your preference. Once the date/time is confirmed, it will redirect to the payment page where you need to pay the exam fees and book your schedule for the exam.
If you prepared with the following above mentioned steps, then you will definitely pass the exam. Wish you luck!
Conclusion
Nothing is easy in life and there are no shortcuts to achieve success. In order to stay tuned and updated in any field, a continuous knowledge upgrade is necessary. Apart from certification and gaining insights on the subject, one also needs to understand the concept thoroughly and that is what will make you a Subject Matter Expert (SME).
Wish you all the very best
Pass AWS Certified Cloud Practitioner in your first Attempt
Hope you liked the article and please do subscribe to receive such articles posted on Digital TechJoint and click here to subscribe to our YouTube channel.
Thanks for Visiting Digital TechJoint